A professional and modern website can have an enormous impact on your business. COVID-19 pandemic showed the significance of providing excellent digital experience. Thus, all elements on your website should be not only user friendly but also have modern look. If you follow trends and constantly work on improving your website user interface and experience, this will result in increased customer trust, higher traffic and leads.
All third-party tools used on your website should be professional and modern in order not to look strange and obsolete. In Provide Support we designed a modern chat window which fits modern websites and has more available customizations than the classic one. If you are still using Provide Support's classic chat window, take a look at these reasons to see why you need to switch.
1. More flexible integration
Embedded or pop-up chat window?
While the classic chat window is available as a pop-up only, the modern one can be either embedded or pop-up, whatever you prefer. If your customers got used to a pop-up window, you can activate this mode for the modern chat window.
However, embedded type of chat windows is used by all live chat software providers by default, and website visitors got used to this kind of chat windows and expect the same behavior from the live chat on your website.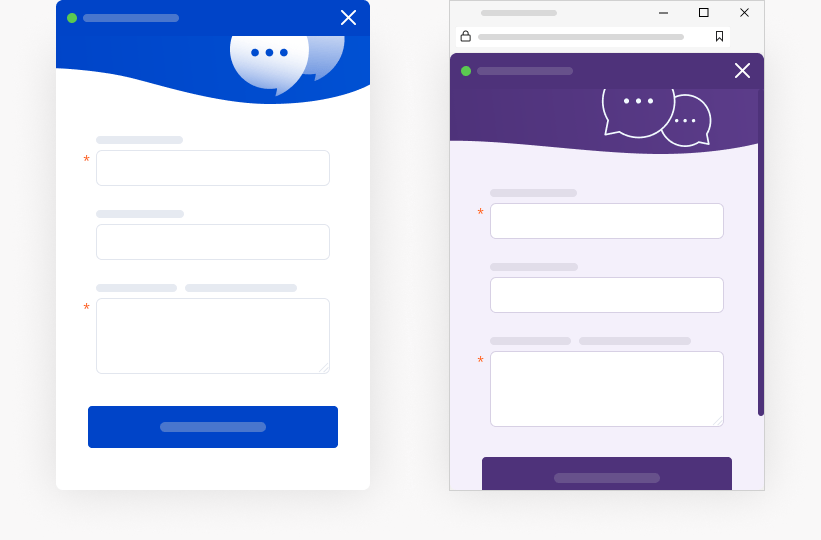 Sticky or integrated into website chat button?
Chat buttons that open classic chat window are always tied to a specific position within your website - header, footer, sidebar or some kind of menu. With modern chat window you can choose either to fix your chat button at a certain position in the browser (sticky chat button) or keep it integrated into your website structure.

2. A wider range of live chat appearance customizations
In terms of available customizations, the classic chat window is more limited than the modern one. For the modern chat window you can take advantage of the following features:
Color scheme choice. You can select the right color scheme for the chat window to look like a part of your website.
Chat window theme choice. Several chat window themes are available to choose from. If you like dark modes, you can select the corresponding theme for your live chat window.
Customizable chat window title. Instead of the default "Customer Support Messenger" used in the classic chat window you can add your custom titles for both online and offline chat windows.
Hiding / showing your company logo as a header image. Like in the classic chat window, you can add your company logo to make it part of the chat window header. But in the modern chat window we disabled the header image by default, so that no predefined images interfere with your design. You can enable it if needed.
Google fonts selection as the chat window fonts. You can select one of Google fonts for the chat window texts. It may be the same of similar to the font you use on your website. As a result, your chat window will look like an integral part of your website.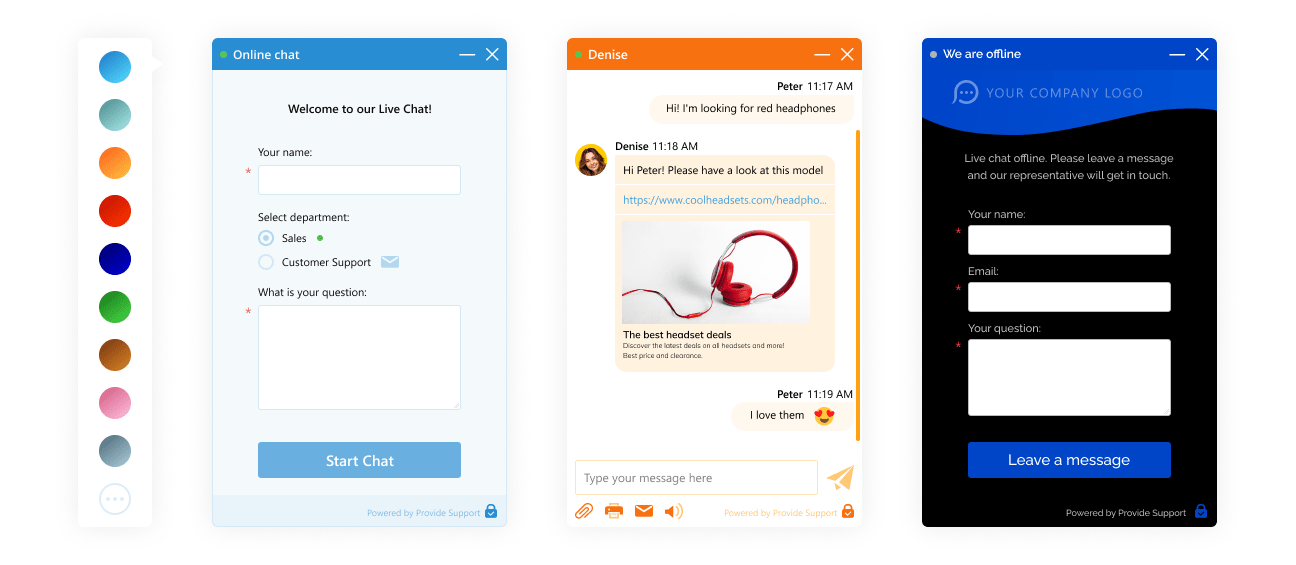 3. New cool features for website visitors
A lot of nice new features will help to improve your customer service quality and user experience.
An ability to preview images, link thumbnails, play audio and video files. When agents send images, they are displayed with a preview in chat window and there is no need to download them and open locally. The same applies to audio and video files, which can be played with the help of a built into the chat window player. For links sent in chat the thumbnail preview is displayed.

An ability to scroll down the chat history with a single click if the history is up and see the number of unread messages. Sometimes your customers need to read the chat history and scroll the chat window up for this purpose. To make their live chat experience more smooth and pleasant, the chat history does not jump to the bottom when new messages arrive. Instead, new messages counter appears on the "down" button and visitors when ready can scroll down to them with a single click.

A possibility to see unread messages count on the chat button if the chat window is minimized. Sometimes your website visitors need to minimize the chat window to browse the website and check some information while chatting with you. However, don't worry, your messages will not be lost. When the chat window is minimized, the chat button displays the number of new unread messages sent by a chat agent.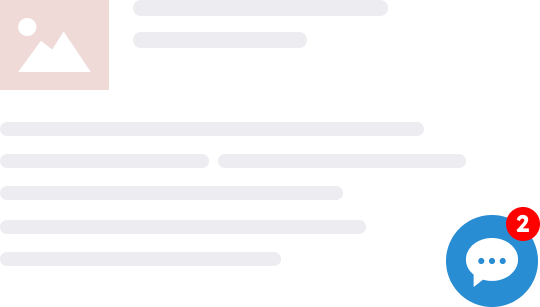 4. Useful features for website owners
Website owners will enjoy new opportunities which will help to improve user experience and increase customer engagement rate.
Chat button optimization for mobile devices. An ability to make the chat button smaller or hide completely on mobile devices is one of the available mobile optimizations of the modern chat window.
Eye catcher. While proactive chat invitations may distract customers from browsing your website, the eye catcher is a less obtrusive way of drawing customer's attention and offering assistance. The eye catcher's behavior can be tuned to be more or less obtrusive: eye catcher's bubble can be displayed on each page load, on next visit or every XX seconds. The look and feel can also be customized to match your website design.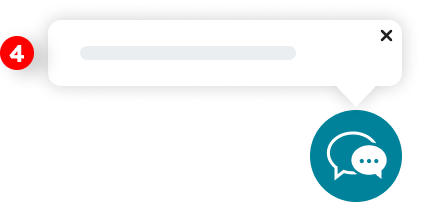 An ability to skip pre-chat survey and start the chat right after clicking the chat button. The fastest way to get in chat with an agent is to start the conversation directly after clicking the chat button. With modern chat window it is possible to skip the pre-chat survey and start the conversation right away.
White label live chat – a possibility to open the chat window from your own domain. With a modern chat window, it is possible to order a premium feature – custom domain for the chat link. In this case, the chat window link will be on the customer's domain and all network requests will go to the customer's domain as well.
5. The development of the classic chat window has stopped
The classic chat window will not be updated to support most of the new features and technologies.
How to try and start using modern chat window
Modern embedded chat window can be activated on the Account Settings / Chat Window Type page in your account. If you are not sure and would like to test the modern chat window before activating it for your customers, you can test it by limiting its visibility for specific IP addresses. For this you need to:
Check "Use modern embedded chat window" option;
Add an IP or several IP addresses one IP per line to the field "Limit modern chat window visibility for testing purposes";
Save updates;
Follow Account Settings / Live Chat Window page to see the modern chat window settings and its basic preview;
Customize the chat window look and feel to match your website design;
Save changes;
Use Live Demo page or your own website to check how the new chat window look like;
If you are satisfied with the modern chat window look and functions, follow Account Settings / Chat Window Type page, remove limitation by IP addresses and save changes;
If you have any questions about the modern chat window look, functions and customization options, please let us know in our support chat or via email. When contacting our support chat, you can also see the modern embedded live chat window in action.
By enabling modern live chat window for your customers, you will improve your user experience and increase customer satisfaction level.