January 17, 2023
ChatGPT and GPT-3 by OpenAI are really mind-blowing tools. Together with DALL-E they can significantly change your digital marketing strategy by facilitating various tasks. This is not a buzz in news feeds, it's a new era in marketing and content creation. AI is one of the biggest technology trends for 2023, and we believe that users will experiment with these artificial intelligence technologies and will soon publish very interesting cases with result. Though these tools are in beta and still require careful revision of results, it is worth trying DALL-E, GPT-3 and ChatGPT for marketing.
Content ideas and writing with ChatGPT
ChatGPT is the latest language model from OpenAI. Reinforcement Learning component makes this product unique. This technique uses human feedback in a training loop. This, as a result, minimizes untruthful data output provided by ChatGPT. You can use ChatGPT for marketing to write posts and articles. It is very useful if you need to produce a large amount of content during the short period of time and do not have enough human resources for creative posts writing.
However, you should keep an eye on the generated content and update it by making more human like. For this you can use transitional and phrasal words and express your own opinion.
Generating marketing content with GPT-3
With help of GPT-3, which you can test on special playground, you can:
Create headlines and taglines for your posts: in the playground window you need to write a command like "Write a tagline for live chat service"
Make texts for ads: you can write "write a 5-words ad for live chat software" to execute the command
Write short texts for social media posts: use "write a short post about live chat software" command to get a text which you can use in your post
Check your texts for spelling: use "Correct this to standard [LANGUAGE]" command to check your text for grammatical or lexical errors
Translate your text into different languages: use command "Translate this into 1. French, 2. German, 3. Chinese". You can add here any number of languages you wish to have your text translated into
While testing GPT-3 for marketing, we came out with the following observations:
For creative tasks it is better to set the temperature value, which controls bot's creativity, between 0.7 and 0.9
Include type of content you would like to have written for you. For example, blog post, tagline or advertisement
You can set in your prompt the number of characters the text should contain. For example: "Write a 500-words blog post about live chat for ecommerce"
You can use GPT-3 AI to summarize your article. For this you need to paste the whole text of your post and add a prompt like this: "Summarize the above text with a bullet list"
The playground model can process only 4001 tokens in one request. If you are planning to integrate the API with your workflow and process more tokens in a single request, you would need to inquire about pricing
In the above examples we have described how you can use GPT-3 for marketing. However, the functionality of this tool is not limited with this. You can use it to create charts or code from text.
Generating images with DALL-E
DALL-E is an artificial intelligence tool which can create realistic images and art from the text description. It is still in beta testing. Images editor does not support editing of the image itself. It allows extending the image by generating a new content and upload images of the objects which you can place on a generated image. There is also an eraser which you can use to remove the generated content to generate it anew with help of special content generation frame. You cannot edit the image which was generated by updating texts on it or filling out bubbles or windows on a schema.
At present you can generate an image based on your text description. It is very useful for marketing when you need to create different images for your blog and social media posts. For example, I wanted to get an image for my post about customer service. DALLE-E generated the following image based on my description: "a cat with earphones and a cup of coffee typing on a laptop photo":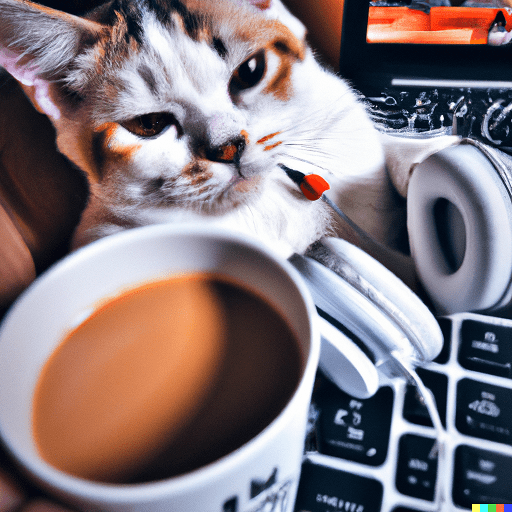 As you can see though it is not perfect but is quite realistic and may be a used to illustrate a post on social media. With DALL-E you get 50 free credits after registering an account and 15 free credits each month. Each click on "Generate" button takes one credit from your balance. This means you can spend all credits on extending one image, so be careful. If you run out of credits, you can always purchase them. 115 credits cost $15. Existing free credits are enough to evaluate the feature and decide whether it is worth using. However, it is not enough to use this artificial intelligence tool for marketing on a regular basis.
AI assistance in copywriting and marketing allows businesses to quickly generate engaging and relevant content. With help of prompts it is possible to tailor the content to the target audience with minimal effort. As a result, using ChatGPT, GPT-3 and DALL-E for marketing will help to improve your online presence and customer engagement.